Before You Move in San Diego
See moving companies and consumer information center. The CPUC licenses and regulates companies that move household goods within California. The companies must prove their financial and safety fitness. They must also prove to the CPUC that they have adequate insurance and they are subject to criminal background clearance by the California Department of Justice and Federal Bureau of Investigation.
Before You Move in San Diego
If you are planning a move and have a list of possible moving companies, you can call the CPUC at 1-800-894-9444 to find out if the companies are licensed and insured.  Or, you can search our List of Companies to find out if a company is licensed and insured, the location of its headquarters, and more!
If you would like to know whether consumers have filed any complaints against a particular company, you can call us at 1-800-366-4782.
For more advice on planning a move, please see:
Mover's Guide with information to help you with your move
Maximum Rate Tariff 4, which is the maximum rates and rules for movers
Resolution TL-19121, amending Maximum Rate Tariff 4 effective January 28, 2016; and 

revised tariff pages

 pursuant to Resolution TL-19121.
Ongoing and past CPUC investigations of moving companies
Filing a Complaint
If you have a billing or service problem with a moving company, and talking with the company does not resolve the problem, you can file a complaint with the CPUC.  For more information and detailed instructions for filing a complaint, please see our Moving Company Complaint web page.
For more information on how the CPUC can help you resolve issues, please see Do You Have a Question or Complaint?
Source: ca.gov
UPLAOD MOVING SYSTEMS IS FULLY LICENSED AND INSURED!
We are fully licensed and insured moving company in State of California CPUC License # 190956. To verify the license and insurance information on moving company please visit CALIFORNIA PUBLIC UTILITIES COMMISSION website at www.cpuc.com or to verify or license and insurance information just click here list of moving companies and type our license #190956 or type UPLOAD MOVING SYSTEMS.
Please View Our Licence and Insurance  Information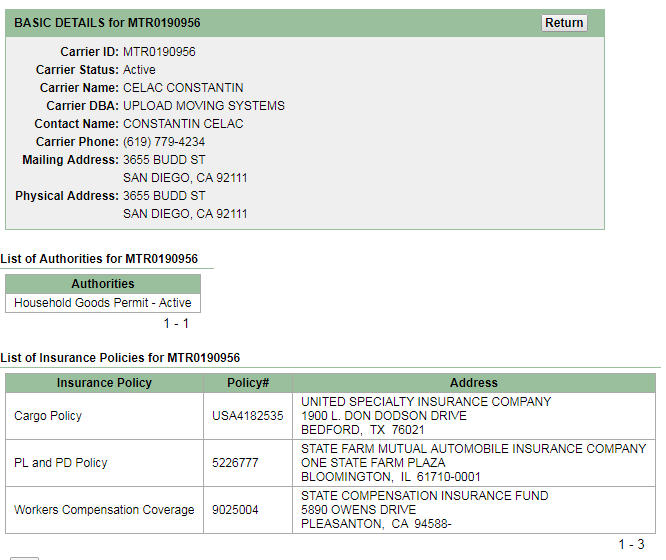 Moving and wrapping furniture
We provide free online & phone moving quotes, we do in person estimates for larger moves only. Our rates vary depending on season & availability.
Only takes a few seconds!